Thinking of adding a budgie to your family? Good choice! There's a reason these little parakeets are the most popular pet parrots out there. Sadly, though, their popularity has also made them the most commonly misunderstood and even mistreated species, so let's go into what a budgie needs to thrive and actually live a happy life.
Keep reading for everything you need to know about budgie care!
| | |
| --- | --- |
| Name(s) (common, scientific) | Budgie, budgerigar, common or grass parakeet, Ngatitjirri, Melopsittacus undulatus |
| Natural habitat | Inland Australia |
| Adult size | Up to 18 cm/7″ and 30-40 grams |
| Lifespan | Up to 20 |
| Noise level | Low |
This post contains affiliate links. If you make a purchase, a small percentage will go directly to Psittacology at no additional cost to you. Thank you for supporting Psittacology!
Budgie appearance
Wild type budgies are among the smallest parrots at a weight of only 30-40 grams. They're the only members in their genus, Melopsittacus, and are characterized by their long tails, yellow, barred head and green body.
Captive budgies are a very different story! Some parrot species in captivity are only a few generations removed from their wild counterparts, whereas budgies have been bred as companion birds for many years.
Selective breeding has resulted in many different budgie colors and patterns. It has even given rise to the English budgerigar, which can be double the size of a common budgie and sports more prominent head feathers.
In your local pet store, you'll likely find wild type yellow-green budgies. In addition to that, you'll probably see every single combination of yellow, green, blue, white and black you can think of. Most of them will likely still be very young – you can learn more about telling how old a budgie is in the article on budgie lifespan.
Did you know? Budgies are sexually dimorphic, meaning you can usually tell their sex from their appearance. Head over to the guide on sexing a budgie to find out how to tell whether yours is a boy or a girl.
Budgie origin & natural habitat
Habitat
One of the reasons budgies have become so popular as pets is their hardiness. Not a surprising characteristic, given the fact that they inhabit pretty inhospitable habitats in the wild!
Wild budgies can be found in Australia. They live a nomadic life following food and water sources around the inland areas, which can be very harsh and dry. Forming small to very large flocks, the budgies travel around the scrubland in search of grass seeds and fresh water.
History
Budgies play a part in many Aboriginal nations' history, both as a food source and in terms of culture. They feature prominently in art and stories.
Australia first became colonised by Westerners in the late 1700s, and it wasn't long afterwards that budgies were first brought back to Europe. Folks back home were quite enamoured with them and with the little birds breeding so easily in captivity, they quickly took hold as pets.
The first color mutations soon popped up and by the time Australia began restricting their export in 1900, breeders in the West had enough established populations on their hands to be able to continue producing more. According to an Australian Geographic article, the equivalent of over $20,000 was once paid for a blue specimen!
Budgie diet
Wild diet
In the wild, budgies survive on the seeds of several different grass and bush species, although they'll also go for farmers' crops if they get the chance. The birds travel around the arid continent, going wherever plant growth is abundant at the time (Wyndham, 1980).
Unlike many other parrot species, budgies are not tree foragers. They search for food on the ground: most of the plants they're interested in are not very tall. Whenever they're not looking for seeds to feed on, they roost in taller trees.
Domestic diet
Domestic budgie diet has long been a source of discussion among bird aficionados. Some favor pellet-based diets for their parakeets, while others prefer dried seed mixes, saying it's the more natural choice for a seed eater like this. The science isn't entirely clear on whether it makes a difference for budgies: some studies don't note a difference, while others favor pellets.
I recommend making sense of the confusion as follows when figuring out the best diet for your budgie: just keep it varied. There are loads of different things your bird may be interested in, including but not limited to:
Seed mixes
Fresh vegetables
Fresh fruit
Cooked grains
Select garden weeds, leaves, and flowers (yep, some are edible!)
You can find more inspiration for what to feed your budgie in the article on parrot diet. Just keep in mind that parrots raised on a seed-only diet can be difficult about trying other foods. Be patient and keep offering, they'll get it eventually.
Lastly, because birds need plenty of calcium to stay healthy, it's a good idea to give your budgie access to a cuttlebone or calcium block at all times.
Did you know? The exact quantity a budgie should eat daily depends on its activity level. A good place to start would be 1 tbsp of dry food in the morning and 1 tbsp in the afternoon per budgie, with access to fresh veggies and water. You can go from there to figure out what works best, weighing the bird(s) regularly to make sure they're still at a healthy weight.
Budgie temperament
Budgies are the pocket rockets of the parrot world! They're chatty, very quick, smart, easily spooked and active fliers. This being said, like other parrot species, they're also extremely social beings. Although you'll see the occasional disagreement break out in a budgie flock, they rarely fight. It's easy to see how much they appreciate and rely on their flock's presence.
Luckily for us humans, we can become part of the budgie flock. Although these parakeets are known for being a bit more hands-off and less cuddly than, say, a cockatiel (check out the article on budgie vs cockatiel for more information), they can still become very close to their humans. They're not known to be bitey birds, although they can be skittish at first and may nip out of fear.
Not all of them will learn to appreciate head scratches, but most can learn to perch on a finger. If your budgie trusts you, it'll usually happily ride along on your shoulder or head, or at least like to check out what you're doing. The species is extremely trainable and intelligent, so be sure to invest some time in taming to help build a bond.
Did you know? Having kept both a single budgie and multiple, I don't recommend keeping budgies alone anymore. They're much happier in pairs or groups. With proper training and bonding, having more than one bird doesn't have to mean you lose your close bond with them at all.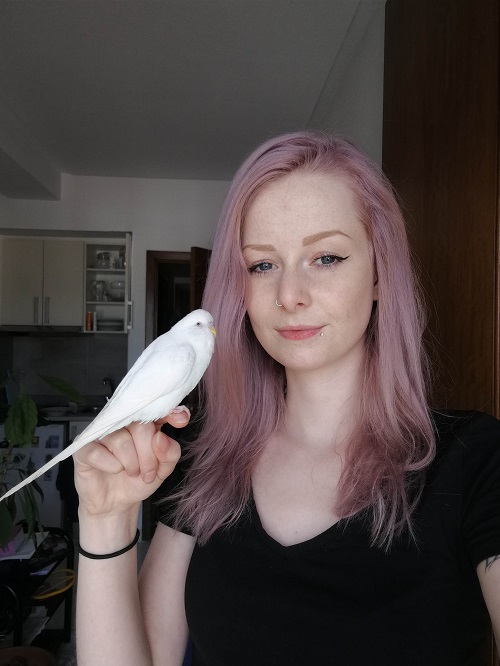 Budgie housing
If you want a happy and healthy budgie, you won't get away with one of the tiny cages often sold as suitable for these small parrots. Those are for travel use only!
Some sources recommend cages as small as 12″ x 18″ x 18″ (30 x 45 x 45 cm) as being suitable for budgies. I guess that's technically true, but only if the cage door is open (almost) all day long. If your budgie only gets to fly free a few hours a day, you'll really have to go for something larger.
For fully caged birds, a large flight cage or aviary is a must. They're extremely active, after all. Remember that horizontal space counts more than vertical, as parrots tend to stick to the top of their cages.
Your budgie's cage should contain plenty of natural wood perches at various heights, but especially near the top. It should also provide toys (see the paragraph below) as well as food and water sources (preferably multiple).
Tip: When choosing a cage for your budgie, be sure to go for one with narrow bars. Budgies are curious creatures and if the bars are more than 1/2″ (1.3 cm) apart, they can get their heads or even bodies stuck.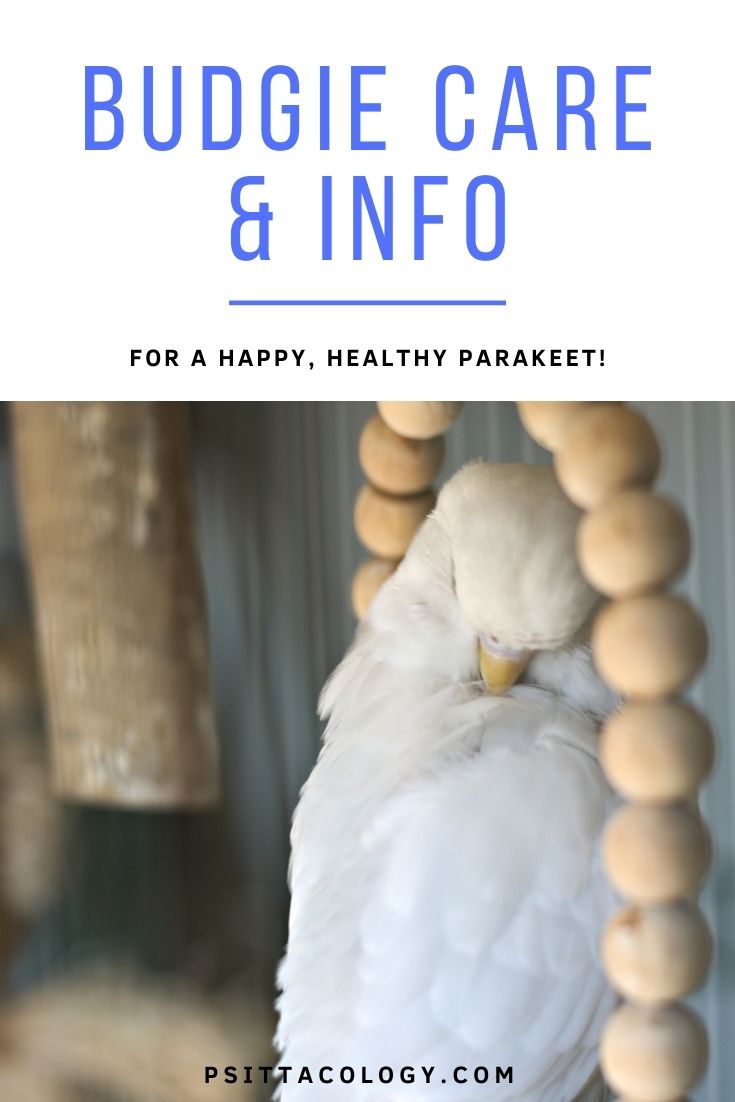 Budgie enrichment
More important than your budgie's cage in itself is what you do with it. What folks often appear to forget is that despite their size, budgies are still parrots.
While larger parrots are usually given at least part of the enrichment and mental stimulation they deserve, more often than not, budgies are stuck in tiny cages with not much more than a mirror to keep them entertained.
Since mirrors aren't considered good for parrots, what else can you do to keep your budgie's 1000-mile-an-hour brain busy? Boredom can lead to extreme stress, screaming and other unwanted behaviors and even over-grooming/feather plucking, after all. I'm going to assume you want your budgie to thrive, not just survive.
Here are a few ideas to start out with:
Out of cage time. Unless you've provided a very large cage, your budgie needs daily time to stretch its wings.
Cage-top playground. To give your bird a play gym to enjoy itself while it's out of its cage and not zoom all around the house, design a little play area on the top of the cage or another high-up location.
Social interaction. If your budgie has a friend, they can entertain themselves. But that doesn't mean you shouldn't still spend time interacting with and training them! It enriches their lives and yours.
Foraging. Parrots naturally have to search for their food, so why would we just tip it into a bowl and leave it at that? Make a foraging box, buy some foraging toys or find bird-safe branches and weeds outside for your budgie(s) to shred.
Budgie sounds
Budgies are very talkative little birds. Although they're not too loud in terms of decibel level (they're on the list of quietest pet birds), the males especially will spend most of their day chatting and warbling to each other. In fact, you can tell a lot about how your budgie is feeling by listening to the sounds it makes!
Budgies can also learn to talk. Their voices are a little funny, but they can acquire huge vocabularies. You can read more about budgie sounds, their noise level and their talking abilities in the article about budgie loudness.
Budgie safety & emergencies
Because they're so active and curious, budgies are unfortunately also pretty prone to getting themselves in trouble. They may be small, but you took on the responsibility for your budgie's life when you bought it. As such, it's also on you to make sure your home is as safe as possible for your bird.
To start off, you should find an avian vet in your area before you even go out to acquire a parrot. Save their number for emergencies and take your brand new budgie in for a check-up to start things off right.
Aside from this, you should keep the following in mind:
The house should be parrot-proofed. No open windows, no toxic houseplants, no access to hot pans and other dangerous objects.
Fumes and scented items are toxic to parrots. You can't expose your budgie to non-stick pan fumes, perfume, air freshener, scented candles, cigarette smoke and the like. If you can't say goodbye to those, you'll have to rethink getting a bird.
You should be able to recognize the symptoms of a sick budgie and be able to provide emergency care, like applying a blood clotting agent. Having a little parrot emergency kit on hand can be very helpful.
Frequently asked questions
Are budgies and parakeets the same?
Technically, no. The term "parakeet" can refer to any slender, long-tailed parrot species. In practice, though, it's usually meant to indicate a budgie. They are the most popular pet parakeet species, after all!
Do budgies like music?
They sure do. Play some music for your budgie(s) whenever you want, and especially if you're leaving them alone for a while.
How do budgies sleep?
Budgies can sleep in the strangest positions. Normally, a sleeping budgie will puff up and close its eyes, often tucking its head into its wings and lifting one of its feet. However, you may find your budgie sleeping while clinging to the side of the cage, or even just plopping down on its belly for a nap.
Why do budgies puff up?
As described above, a puffed-up budgie is usually a content budgie! There's no reason to worry unless your bird is lethargic and unresponsive.
---
If you have any more questions about budgie care or if you'd like to share your own experiences with these delightful small parrots, don't hesitate to leave a comment below!
De Voe, R. S., Trogdon, M., & Flammer, K. (2004). Preliminary assessment of the effect of diet and L-carnitine supplementation on lipoma size and bodyweight in budgerigars (Melopsittacus undulatus). Journal of avian medicine and surgery, 18(1), 12-18.
Eggleston, K. A., Schultz, E. M., & Reichard, D. G. (2019). Assessment of Three Diet Types on Constitutive Immune Parameters in Captive Budgerigar (Melopsittacus undulatus). Journal of avian medicine and surgery, 33(4), 398-405.
WYNDHAM, E. (1980). Environment and food of the budgerigar Melopsittacus undulatus. Australian Journal of Ecology, 5(1), 47-61.