If you're thinking of adding a green cheek conure (Pyrrhura molinae) to your family, you might be wondering about green cheek conure lifespan. How long do green cheek conures live?
Let's go into green cheek conure lifespan in the wild and in captivity, as well as the factors that play a part in making sure that yours lives a long and happy life.
This post contains affiliate links. If you make a purchase, a small percentage will go directly to Psittacology at no additional cost to you. Thank you for supporting Psittacology!
How long do green cheek conures live in the wild?
Also known as green-cheeked parakeet, the green cheek conure is a small parrot species that naturally occurs in South America. It's scientifically known as Pyrrhura molinae and can be divided into six subspecies that can be told apart by their differing colors.
You'll find the green cheek conure in treetop-dwelling flocks that inhabit forests in a geographical range that includes parts of Paraguay, Brazil, Bolivia and Northwestern Argentina.
As you can imagine, wild green cheek conures don't live the cushy life that their domestic counterparts do. Although they stick to the treetops to reduce the chances of being snatched up by natural predators, they don't have the potential lifespan of our pet birds.
A lucky wild green cheek conure will live between 10 to 15 years.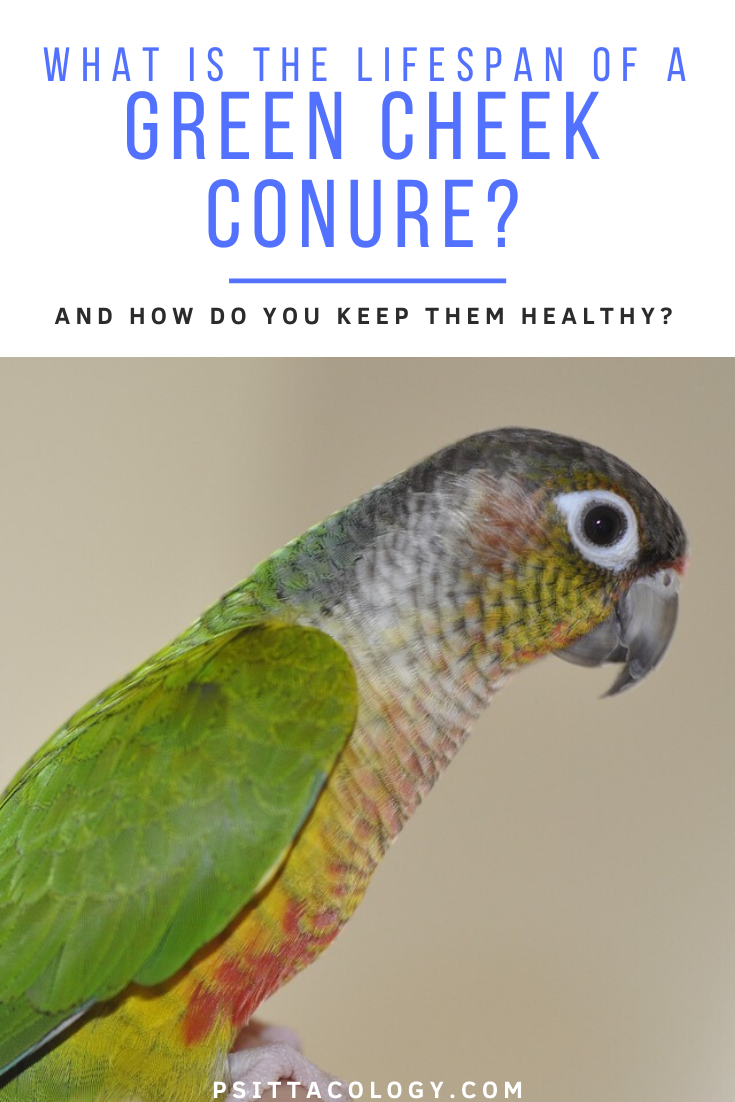 How long do green cheek conures live in captivity?
Logically, the potential lifespan of a captive green cheek conure is a lot better than that of a wild one. Note, though, that we're talking potential lifespan.
Before we go into the numbers, I'd like to stress as always that how long your pet green cheek conure lives depends entirely on you. If you want the bird to live a long and happy life, it's crucial to make sure you do plenty of research before you get one. In fact, you should never stop trying to learn more!
Before you buy a green cheek conure, you'll have to make sure you're prepared for the bird to be around for a very long time. Although bad husbandry leads many of these parakeets to pass away before they reach 10 years of age, green cheek conure lifespan actually stretches way beyond that. A well-cared for green cheek can easily make it to 20. In lucky cases, yours can actually be around for up to 30 years.
As you can imagine, it's important to make sure that your situation and home life are stable before you add a green cheek conure to your family.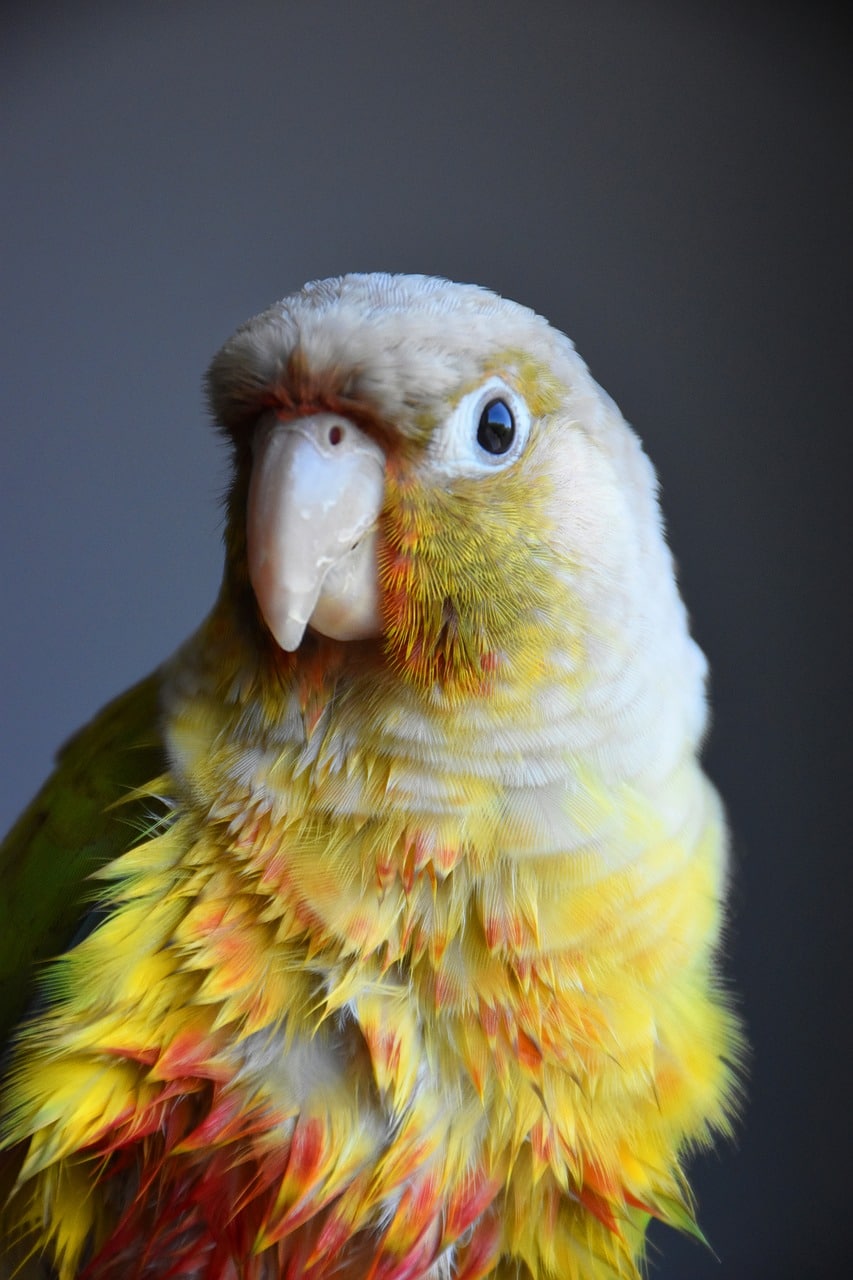 What influences green cheek conure lifespan?
So, as we've now established, green cheek conures have an amazing potential lifespan. But how do you ensure your bird has the chance to actually live for 30 years?
First off, it's important to keep in mind that for some birds it's just not meant to be. Just like humans, they can have genetic defects. Some of these can unfortunately mean they will never make it past a few years. They can fall ill to all sorts of diseases. Some are preventable with quarantine and proper care, but sometimes there's just nothing you can do.
There's obviously no reason to beat yourself up over your green cheek conure passing away from hereditary issues and other incurable conditions. Beyond that, though, there is a lot you can do to prevent your bird from succumbing prematurely due to illness or accidents.
Diet
One of the most important factors in keeping any domestic bird healthy is diet. This is, however, unfortunately also the part where the most mistakes occur. A balanced, suitable diet is very important for your green cheek conure but sadly, many sources don't provide accurate info on what these birds are actually supposed to eat.
Wild green cheek conures will spend much of the day foraging for any tasty morsels they can find. Unlike cockatiels, for example, they're not ground foragers; they prefer to stick to what can be found in the treetops. That includes fruits and seeds as well as any veggies they come across. Even insects aren't safe from a green cheek conures hungry beak, although the birds won't actively go out looking for them.
Wild green cheeks live a very active lifestyle and need a lot of calories to maintain a healthy weight. Their diet is high in fruit, as this contains sugar to provide plenty of energy. In captivity the situation is a bit different.
Even if your conure spends most of the day outside of its cage, it still needs less food than its wild counterpart. Fruits especially should be limited due to their sugar content. So should seeds, which are the traditional choice but high in fats.
So what comprises a healthy green cheek diet? Try a mix of the following:
Fresh veggies and leafy greens
Fresh fruits
Sprouted seeds (super easy to do yourself!) and select garden weeds such as clover
Unsalted pasta, rice, lentils
Treats: occasional nuts or millet (handy as training treats)
Keep in mind: fresh water should always be available, preferably multiple sources. Change water daily or whenever debris like poop or food has fallen into the bowl.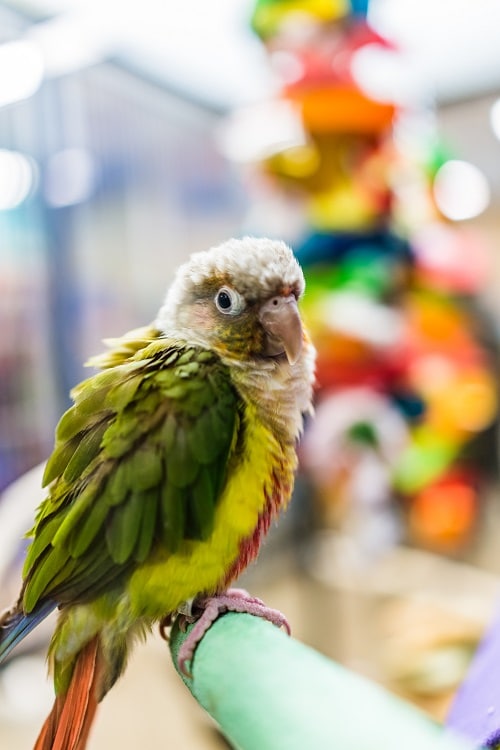 Stress prevention
Let's take a moment to go into one very important factor in the lifespan of any living being. As you're probably aware, stress can be incredibly unhealthy to humans. This is no different for pet birds like your green cheek conure.
You should always be mindful of environmental elements that can stress out a bird, as continued stress can take years off green cheek conure lifespan.
Some potential stress factors that you should aim to avoid are:
Small cage/no out-of-cage time. Not just a big factor in causing obesity and related issues: not being able to move around is also very stressful for the bird!
Lack of stimulation. Your bird needs toys and things to explore. If you aren't able to spend multiple hours a day with it, it'll also need company to keep it occupied.
Rough handling. It can be frustrating when you just want to cuddle your green cheek but it's not tame enough to allow it. However, you should never force interaction. Always stop if the bird shows signs of stress or wanting to get away.
Feeling unsafe. Even if your green cheek conure is safe and sound inside its cage, it should not be exposed to anything that it might perceive as a predator. Always approach it gently and never let predator animals such as dogs or cats near the cage.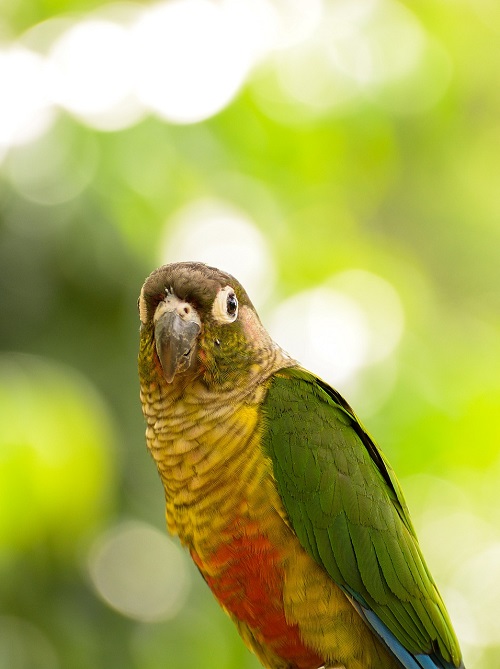 General care
Aside from offering high-quality, varied foods and avoiding stress factors, there are some additional care guidelines that you should always keep in mind. Green cheek conures are endlessly curious and can easily get themselves into sticky situations.
Avoiding obesity. As mentioned earlier, a large cage and preferably plenty of out of cage time are important. Obesity is just as much of a killer in birds as it is in humans!

Keep your conure fit by letting it spend plenty of time outside of its cage and providing lots of parrot toys for it to play with.
Safety. Anything and everything that your green cheek conure can reach needs to be bird proofed. Unsafe toys, open windows and hungry cats or dogs have killed many an unlucky conure.

Although sometimes an accident can happen completely unexpectedly, there is a lot you can do in terms of avoiding danger.
Fumes. Like all domestic birds, green cheek conures have incredibly sensitive lungs. Dangerous fumes go beyond the obvious types (like cigarette smoke and pesticides): they also include things you might not think of.

Non-stick pans emit fumes that can be fatal to a parrot and so do (scented) candles, scented oil burners, cosmetics like hairspray or perfume and air freshener. We know birds can be stinky but unfortunately you can't cover up the smell with commercial scented products!
Quarantine and check ups. All new birds should be checked by a vet before they're brought into your home to make sure they're healthy. Not all diseases can be diagnosed easily, though, so you should also quarantine new additions for your other birds' safety.

After that, your green cheek conure should be checked by an avian vet whenever anything appears amiss and ideally every year or so just to be sure.
Emergency care and knowledge. Do you know what to do when your green cheek conure is bleeding? Do you have the tools in your home to remove a wood splinter lodged in the bird's beak or foot?

We don't want to think about emergencies, but it's very important to be able to act quickly when serious problems strike.
How old is my green cheek conure?
If you rescued your green cheek conure (yay you!) or got it from a pet store that wasn't able to give you any information regarding the bird's age, you might be wondering how old it is.
Unfortunately, beyond the juvenile stage, there is really no way to figure out a green cheek conure's age. You can check whether the bird has a leg band as this will sometimes contain info on when it hatched, but if there is no band and the bird is older than a few months you're pretty much out of luck.
A very young baby green cheek conure is easy to recognize, as its feathers won't have grown in yet. Loads of sheathed feathers and fluff are a good indication that the bird is only a few weeks old. After all feathers have grown in, things become really difficult.
Young birds that are no more than a few months old, like the ones in the video above, might be smaller and clumsier. Their feet will look more pristine and don't have as much scaling and wear, but that's really it. Bummer!
---
If you have any more questions about green cheek conure lifespan or want to share your own experiences with these ever so lovable South American parakeets, don't hesitate to leave a comment below!
---