If you're thinking of adding a quaker parrot (Myiopsitta monachus, also known as monk parakeet) to your feathered family, you're probably wondering how long this South American species lives. What is the lifespan of a quaker parrot and, more importantly, what can you do to make sure it lives a long and happy life in your care?
Let's go into quaker parrot lifespan and important care guidelines.
This post contains affiliate links. If you make a purchase, a small percentage will go directly to Psittacology at no additional cost to you. Thank you for supporting Psittacology!
What is the lifespan of a quaker parrot in the wild?
Quaker parrots naturally occur in Argentina and surrounding countries, although they've proven pretty adaptable and feral populations can now be found in many other places. Despite their success in spreading as a species, wild quaker parrots are obviously still exposed to more dangers on a daily basis than their captive counterparts.
Although flocks find some safety in the massive nest-"houses" they build in trees, the scrubland that quaker parrots naturally inhabit is still full of natural predators and other dangers. The same goes for feral populations in cities: they might have less trouble finding food but hawks and other carnivores still lurk everywhere!
Despite the above, quaker parrot lifespan in the wild is still up to 15 years. In lucky cases, that is; many will unfortunately perish before that.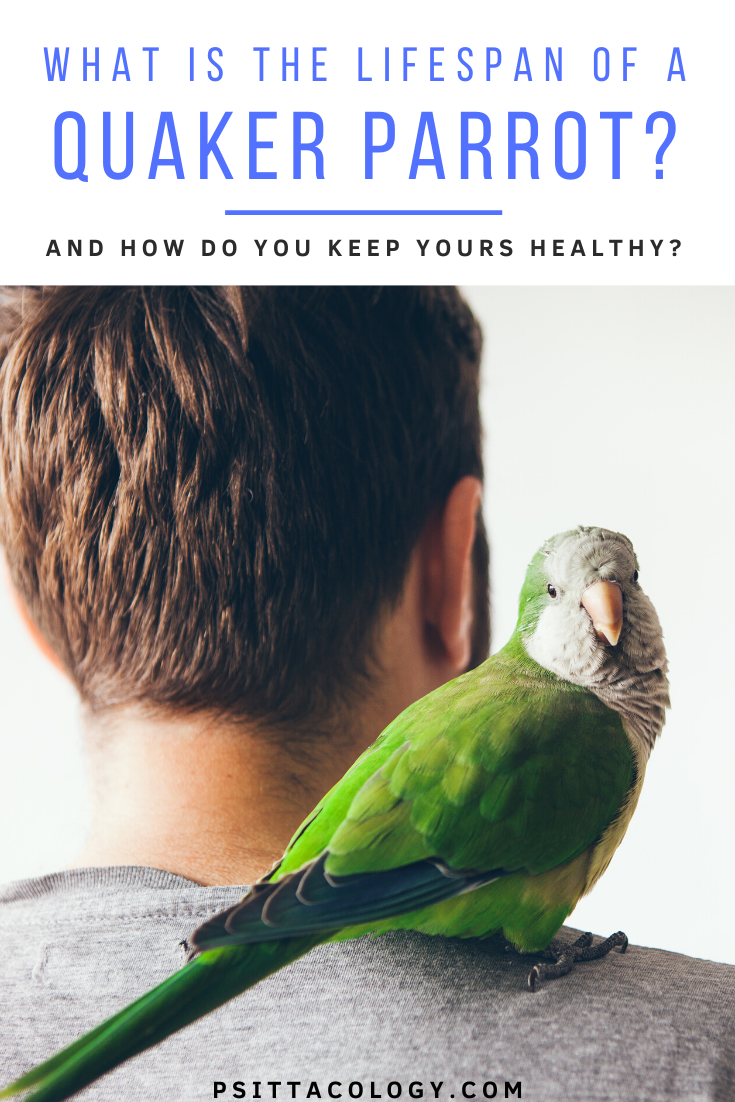 What is the lifespan of a quaker parrot in captivity?
If you're thinking of getting a quaker parrot as a pet, be prepared for some commitment. As mentioned above, we can be more optimistic about the lifespan of a quaker parrot in captivity than one in the wild.
AnAge lists maximum quaker parrot longevity as 22.1 years in captivity. However, there are reports of quakers living much longer than that, with some having reached 30 years of age or even more!
Keep in mind that there is no guarantee that your quaker parrot will live to 30+ years. We can list average lifespan, maximum lifespan and all sorts of numbers but in the end it all depends on YOU. Bad parrot care is still common and many quakers don't make it to anywhere close to their potential age.
Before you commit to one of these long lived birds you'll have to make sure you know as much as possible about their care in order to make sure yours lives a long life.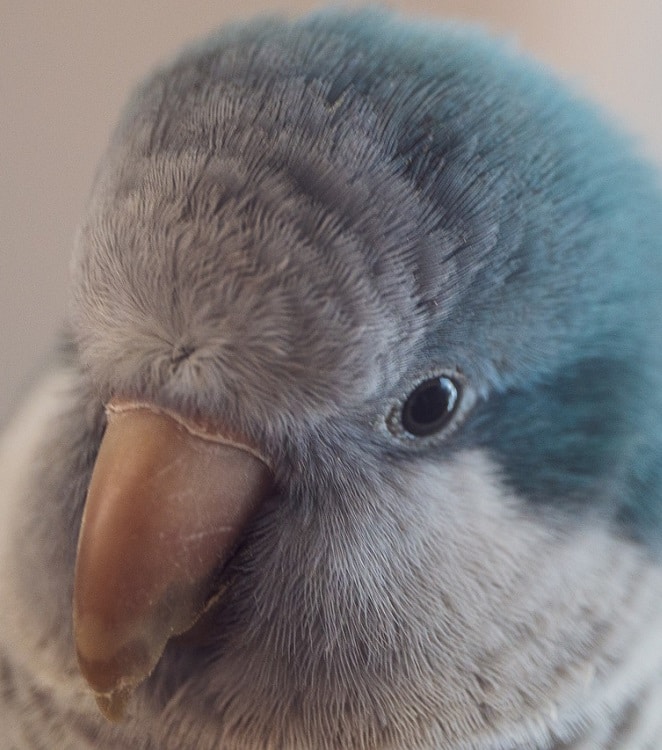 Quaker parrot lifespan: What influences it?
Now that we've established how long a quaker parrot can live, let's go into what you can do to make sure yours actually makes it to that age.
There are three important factors that influence your quaker's potential age: genetics, diet and general care.
Genetics
We'll have to start off by discussing one factor that you unfortunately won't be able to influence much: genetics. As with any living creature a quaker parrot can win the genetic lottery for potential lifespan or, alternatively, be doomed to pass on early due to genetic predisposition to disease.
One thing you can do to at least somewhat improve your chances of finding a quaker parrot with good odds is to locate a reputable breeder to buy your bird from. A good breeder will only allow very healthy birds with no defects to produce clutches, thus making sure hereditary issues don't get passed on.
Still, almost every clutch produces babies of varying strength, so in the end you still just have to get lucky when it comes to genetics.
Diet
One factor we can definitely influence as parrot owners is the bird's diet. This also happens to be where it goes wrong for so many birds, since myths about what a parrot should eat are still pretty persistent.
A seed-only diet is often portrayed as absolutely fine. Unless one does some research, they might never realize that their quaker parrot needs a little more than that.
So what does a proper quaker parrot diet look like? In the wild, these birds will go for anything edible they can find, and a lot of it. They move around all day, after all, and need lots of calories to keep their bodies going. In areas populated by humans, they are actually considered pests because they love raiding farmers' crops.
Myiopsitta monachus has been observed to eat a variety of seeds, fruits, blossoms, insects, leaf buds, thistles, grasses and parts of trees. They consume an assortment of sunflower seeds, both black and stiped; safflower seeds, pumpkin seeds, and other smaller seeds.

Near populated areas, the birds have also been known to eat sweet potatoes, legumes, drying meat, cereal crops, such as maize and sorghum, as well as citrus crops

The Quaker Parrot: An Owner's Guide to a Happy Healthy Pet
Looking at the above, it should probably be clear that a diet of just bird seed is not going to cut it at all for your quaker parrot. It has evolved to eat many different foods and variety is key to keeping any parrot species healthy!
Additionally, although wild quaker parrots eat lots of seeds, our domestic ones don't have as much of a need for all those calories. A healthy diet for your quaker parrot could look a bit like this:
Fresh vegetables
Fresh fruits (don't overdo it on this; fruit has a higher sugar content)
High-quality seed mix (yes, you can feed seed, just not exclusively!)
Grasses and bird-safe garden weeds like clover or dandelion leaves
Boiled unsalted pasta or rice
Some egg or the occasional cricket/mealworm
Make sure the bird also has access to a mineral block and, of course, multiple sources of fresh water.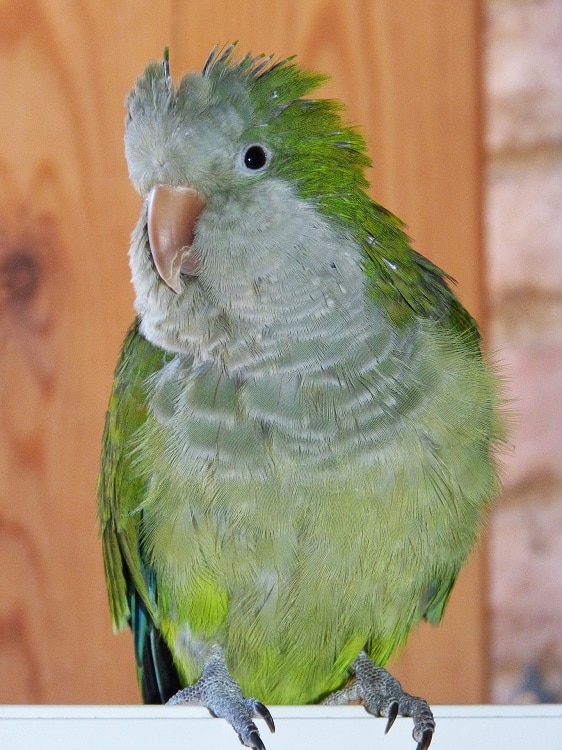 General care
Although diet is an incredibly important factor in making sure a quaker parrot lives a long life, we definitely shouldn't forget other care aspects. Slacking on general care can lead to stress for your bird (which can greatly impact its long term health) or even to downright dangerous situations.
A few things to keep in mind are:
Cage. Even if your quaker parrot doesn't spend much time in its cage, you should still make sure that it is high quality and large enough.
Out of cage time. Unless you keep your bird(s) in an aviary, you'll have to provide time out of the cage on a daily basis. Lack of exercise can cause obesity in parrots just like an improper diet can and this comes with many potential health risks.

Keep in mind that any room your quaker parrot has access to should be "bird-proofed". A whirling ceiling fan or hot cup of coffee may mean nothing to us but can severely harm a parrot.
Enrichment. Provide your quaker parrot with toys, climbing opportunities, foraging boxes and anything else you can think of to keep it entertained. A parrot in a bare cage will become bored and stressed. Do make sure all toys are safe.

Part of enrichment is also spending time with your parrot. A quaker kept solo will quickly become very lonely and stressed if it can't play or even just hang out with you.
Clean air. Often overlooked by novice bird keepers, this is so essential! Birds have very sensitive lungs that can be severely damaged by cigarette smoke, perfumes and even things we might not think about like the fumes from non-stick pans.
Emergency planning. What do you do when your quaker parrot is bleeding? Do you have the tools to remove a wood splinter from its foot? Make sure you know what to do in emergency situations and consider having some basic tools handy, as well as the phone number for an avian vet.
How old is my quaker parrot?
If you already have a quaker parrot you might be wondering how old it is. Some are lucky and can contact the breeder to find out when a clutch hatched, or find out the date if their parrot is ringed. If you adopted yours or got it from a pet store with no further info, things quickly get more complicated.
Unfortunately it's pretty much impossible to tell how old a quaker parrot is once it has passed the baby stage. Babies can be recognized from their incomplete plumage and behavior like head bobbing or wing flapping (to practice flying).
---
If you have any more questions about the lifespan of a quaker parrot or want to share your own experiences with this amazing South American parrot, don't hesitate to leave a comment below!